LAPTOP EMAILS: JOE & GREEN DEMS FUNDED NAT GAS PIPELINES FOR BURISMA/PUTIN
"ROBIN" UPGRADED PUTIN'S ENERGY WEAPONRY
Originally Posted by Mike McCormick Apr 5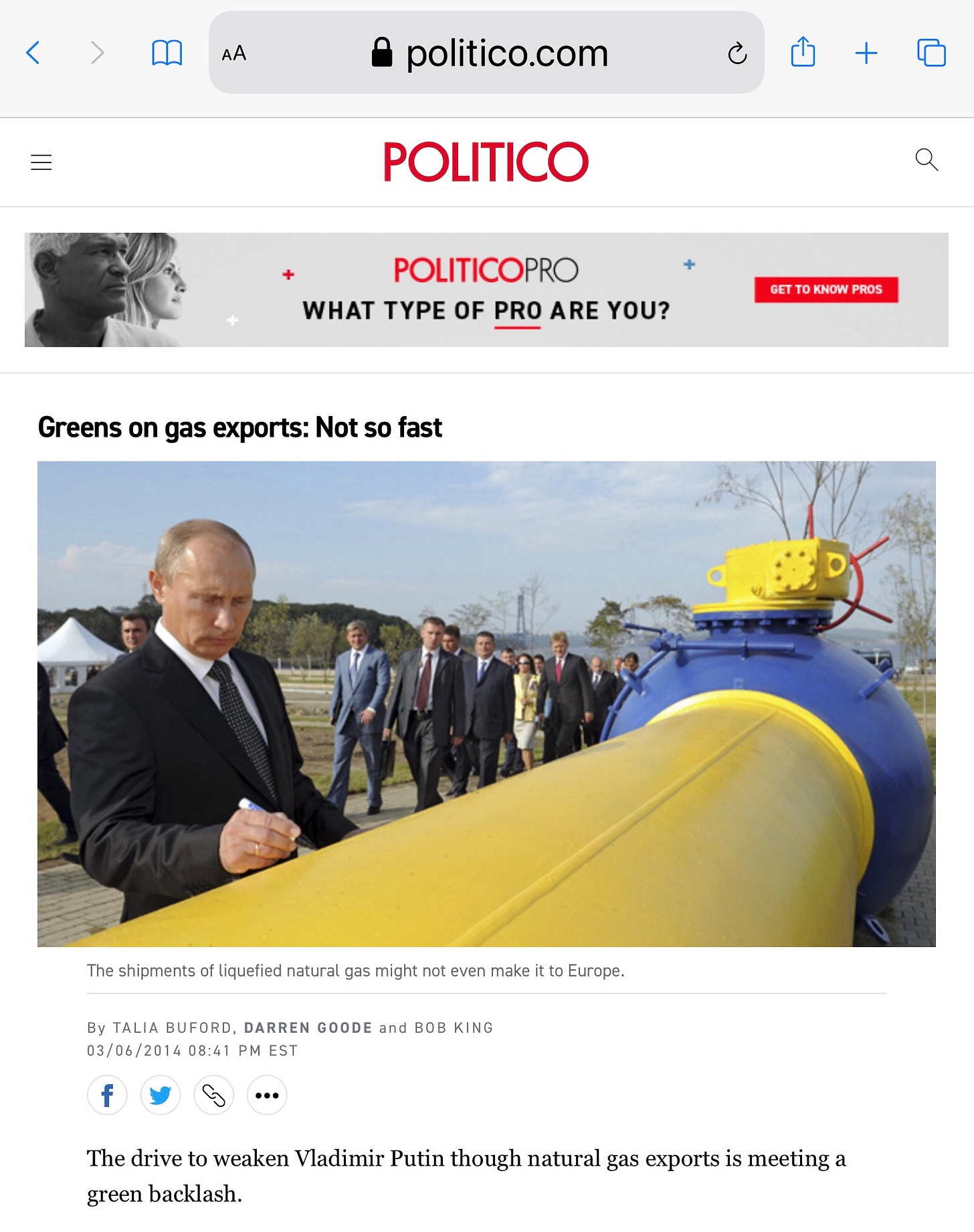 Thanks to Joe, Ukrainian Pipelines Are Putin Pipelines
A batch of recently uncovered Hunter Biden Laptop emails reveal members of Hunter's D.C.-based government relations crew lobbied "green" Democratic senators into teaming up with Joe Biden in 2014 on Ukrainian energy security efforts for a course of action that eight years later has become catastrophic.
The ghastly truth being: Thanks to "green" Dems and Joe/"Robin," our tax dollars refurbished the pipelines that are now powering Putin's horrific invasion of Ukraine.
Here's a screenshot of an email I discovered as I cross-referenced Joe Biden's Ukraine visit to Kyiv on November 20-21, 2014, with email traffic on the Hunter Biden laptop. My copy of the laptop, given to me last fall by Garrett Ziegler on behalf of Marco Polo USA, is identical to the laptop version thoroughly exposed by The New York Post, but only recently acknowledged as authentic by the New York Times and the Washington Post.
This July 11th, 2014, email from Hunter's Boies Schiller Flexner lawyer Heather King to Burisma executive Vadym Pozharskyi outlines her efforts — partnered with Hunter associate David Leiter — to set Pozharskyi up in a series of meetings with U.S. government agencies, industry groups, congressional staffers and notably Democratic Senators Edward Markey, of Massachusetts, and Chris Murphy, of Connecticut.
And while subsequent emails indicate Pozharskyi traveled to Washington, D.C., in July 2014 and again in September 2014, it's unclear if he met with any or all of the people King has listed. Though soon after his September trip, he heralded Burisma's windfall in the USAID Municipal Energy Reform (MERP) Project, which I detail in this archived Substack:
LAPTOP REVEAL: USAID FUNDING TO BURISMA COINCIDED W/BIDEN 2014 UKRAINE VISITNothing breaches the misinformation fortress built around Joe Biden's corruption as quickly or as easily as the contents of his crack addict son Hunter's Laptop. Propaganda purveyors like PolitiFact should start writing corrections. Case in point, recently discovered Laptop emails reveal a taxpayer-funded USAID payoff for Ukrainian natural gas conglomerat…
And it's important to note here that none of the actions Leiter or King have taken to this point are illegal, unless — and it's a big unless — they have knowledge of Joe Biden coordinating with Hunter or Burisma to cut himself in on the deal.
But as I've written about previously, there is Laptop email evidence that Joe was directly involved with Pozharskyi as of November 2014. And it's my belief both Leiter and King will need to answer questions about that as they were copied on that email.
So, Dave and Heather, who was Robin?
Going Green
These meetings and other efforts by Hunter's Burisma crew were meant to capitalize on Joe's public assignment of promoting Ukrainian energy security. But my discovery of a November 13, 2014, Pozharskyi email invoking Joe Biden's code name "Robin," which I discussed in the following archived Substack, indicates to me Joe was privately working for Burisma:
BURISMA EXEC PRESSURED HUNTER WITH JOE'S SECRET CODE NAME "ROBIN"Vice President Joe Biden Meets Ukrainian President Petro Poroshenko to Discuss Energy Security Days After a Burisma Executive Pressed Hunter for Help White House Photo by David Lienemann An email sent in November 2014 by Burisma Holdings executive Vadym Pozharskyi…Read more
Then as a bonus, Joe/Robin pitched in to help his "green" Senate buddies prioritize Ukrainian natural gas infrastructure rather than U.S. liquified natural gas (LNG) exports to Europe, thus achieving their objective of undermining America's shale fracking boom.
A June 27, 2014 email from lawyer King reveals Hunter's Burisma team's intentions to coattail with Joe's Senate pals.
And here's a screenshot of the letter she references, which Burisma then published on its website. The "greens," led by Markey, included Senators Jean Shaheen, of New Hampshire; Ron Wyden, of Oregon; and Chris Murphy, of Connecticut.
Note the mention of Joe's mission and the discussion of Ukraine's "shale gas resources," which subtly ties Burisma into the effort because it is one of the few Ukrainian energy companies with expertise fracking shale gas. So Joe Biden or any Democrat official mentioning Ukraine's "unconventional gas reserves" or "shale gas resources" after 2014 indicates to me, they are referring to resources under development by Burisma.
And they know it.
Here's the link: https://www.markey.senate.gov/imo/media/doc/2014-06-27_PresidentObama_Ukraine_energy.pdf
After Burisma published the Obama letter on their website, journalist Michael Scherer examined lobbying disclosures by David Leiter and wrote about Burisma's government outreach in Time Magazine. So yes, legacy media did question — ever so briefly — the red flag warning of Hunter's Burisma board appointment.
And I'll add that Jay Carney, who was then Obama's White House press secretary, was previously a Time Magazine correspondent, with a stint as their bureau chief in Moscow. Not sure if he spoke with Michael Scherer about this story, but there's certainly a familiarity there.
Time Magazine link: https://time.com/2964493/ukraine-joe-biden-son-hunter-burisma/
Scherer intelligently raises Leiter's lobbying role but leaves out the money involved. According to OpenSecrets.org, Markey received $10,000 in donations for his 2014 "work" with David Leiter, while Shaheen got $3,800. Leiter also gave the Democratic Senatorial Campaign Committee $10,000.
And what did Burisma get for its money? Or more importantly, it's undisclosed relationship with Joe/Robin.
Well, as I wrote about in my last Substack, and this July 31, 2014, email proves, Hunter's crew, with help from Amos Hochstein, a State Department energy expert, who worked closely with Joe, delivered the dollars. Burisma got a chunk of money from USAID's Municipal Energy Relief Program (MERP.) And recall that award came just weeks before Joe Biden's November 2014 trip to Kyiv.
But that was just the start.
The Ukraine Freedom Support Act
In a previous Substack I wrote that Joe either through his staffers or his own efforts, as in his work with his Senate colleagues demonstrates, landed three big windfalls for Burisma. The first was the MERP award.
The second was the December 2014 Ukraine Freedom Support Act (UFSA,) championed by Senator Markey.
Passed into law weeks after Joe's November 2014 visit to Kyiv, the UFSA, amongst other provisions, directed 50 million U.S. taxpayer dollars be spent on Ukrainian energy security. And while a good chunk of that money benefited Burisma, even more significantly, portions of those funds paid for construction and repairs of the very same natural gas pipelines Vladimir Putin has now leveraged against Europe during his brutal invasion of Ukraine.
Here's a screenshot of the portion of the law pertaining to natural gas pipelines. And note the date, December 18, 2014. This is shortly before those Democratic senators headed home for winter recess. And when they returned they were no longer in control of the Senate, as the Republicans had won the majority of seats in the 2014 midterms. So at this point of the legislative calendar, this was a congressional going-out-the-door giveaway to their donors. With Joe and the "greens" on their team, no wonder Burisma scored big.
And here's the link to the Obama White House press release heralding then Vice President Joe Biden's November 2014 accomplishments after his visit to Kyiv:
And here's a screenshot of the information pertaining to the Burisma payoff. The "introduction of new technologies" refers to fracking, which means Burisma.
According to the Congressional Research Service, at the time, about 40 percent of Russia's natural gas exports to Europe flowed through Ukrainian pipelines, an arrangement for which they paid transit fees. Ukraine also imported a substantial amount of their energy from Russia. So the USFA funds for natural gas pipeline construction and maintenance were as beneficial to Putin as they were to Ukraine.
Even in 2014, as Putin was occupying Crimea and supporting separatists in the Donbas, he was also paying Ukraine to use its pipelines to transit his Russian natural gas and oil to Europe. Then in June 2014 Putin halted all exports of natural gas to Ukraine to harm their economy, although he simultaneously continued paying them allow his gas through their pipelines to Europe. Which they did.
And still do.
So no matter how the world sees this horrific war in Ukraine, the one constant is the pipelines. These are the same pipelines that, in spite all the grisly, muddy death, remain undisturbed. Tanks, artillery, missiles — Russian and Ukrainian— nothing touches the pipelines. Russian gas flows through them to Europe without interruption while Europe holds its collective breath and prays Putin keeps their gas flowing.
It was Joe Biden and his Democratic Party's hostility towards the American energy sector led to this international tragedy. And now he and his European allies are begging for U.S. shale gas producers for LNG exports to undo the economic damage.
Keep begging, Joe. It's going to take a while.
Another way to put it is: Joe Biden, the man who gave billions of dollars worth of our military materiel to the Taliban, also gave millions of our tax dollars to Ukraine to build pipelines … probably for Vladimir Putin's Russian natural gas industry.
President Trump said it best, "Joe Biden has played right into Vladimir Putin's hands."